no more cold hands
adequate as outer glove
adequate as inner glove
extremely thin elastic fabric
3 temperature levels
no interfering cable
incl. high-performance lithium polymer battery (3,7 V; 3800 mAh)
accumulator extremely small and lightweight (59 grams)
accumulator exchangeable
warm hands for up to 5 hours
Order Thermo Gloves!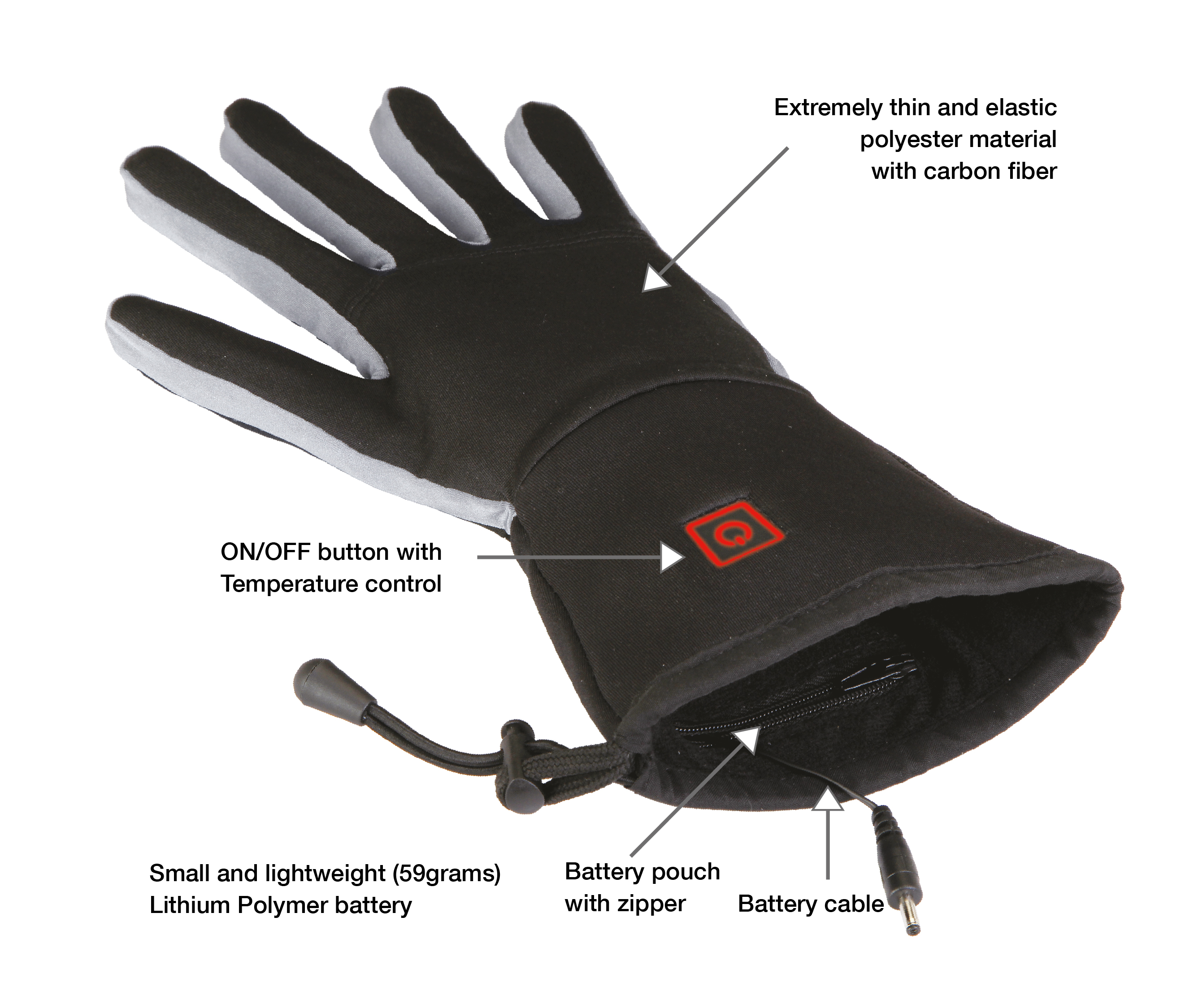 Now the
Thermo Gloves
are available at an price of only
149,99 ¤
,
the
Thermo Gloves Touch Screen
of only
159,99 ¤,
the
Thermo Ski Gloves
of only
189,99 ¤
and the
Thermo Work Gloves
of only
179,99 ¤.
This winter, you should do your hands a favour. Even on the coldest winter days, keep your hands warm with the
Thermo Gloves
, the
first wireless and rechargeable heated gloves worldwide, that even fit underneath your other gloves.
| | |
| --- | --- |
| Thermo Gloves provide your hands with pleasant warmth and thus offer ideal comfort for the winter. Wear the Thermo Gloves as outer gloves, or pull on your own gloves over them. No matter whether these are mittens for taking a walk, or skiing gloves, or rubber gloves for working with water, leather gloves or work gloves. All of them fit over our Thermo Gloves, because they have an extremely thin material and are elastic on top of that. They adapt to the shape of the hand and provide ideal wearing comfort. | |
Incidentally: Recently the famous Olympic medallist Georg Hackl (3 x Gold, 2 x Silver in the One-Man Tobogganing event) has begun using our Thermo Gloves on a daily basis and he's very impressed indeed!

The Thermo Gloves have 3 different temperature levels with 34 degrees C, 39 degrees C and 44 degrees C.

This way you can choose your own ideal temperature, depending on whether you get cold hands quickly or not.If you are no longer cold, you can turn the heat off without having to take off the Thermo Gloves or the outside gloves, because the on/off button is located on the outside of the Thermo Gloves.
Thermo Gloves are equipped with high-tech carbon fibres that conduct the heat. These fibres are not only extremely thin and flexible, they also ensure an even distribution of heat.
The heating time is between 2 and 5 hours, depending on the temperature level, but that does not mean that you have to have cold hands after that. Simply replace the accumulator, without even having to take off the gloves. The spare accumulators are extremely lightweight and weigh only 59 grams per piece. Thus, they are light enough to always have a second pair of accumulators along. You will not even notice that you are carrying them.
Our Topmodel...Touchpad Thermo Gloves with integrated touchpad material on the thumb and index fingers! Now you can operate your smartphones or tablets without having to take off the gloves, keeping your fingers warm. The special soft PVC anti-slip material on the palm of the gloves assures a secure grip.
| | | |
| --- | --- | --- |
| | New since September 2018 are our Thermo Ski Gloves, which are lined and insulated in addition to the integrated heating element. This means that these gloves can be ideally used as outer gloves for skiing and all other outdoor activities. A very modern resistant material on the palm of the glove allows a very good grip. | |
| | Also newly developed are our Thermo Work Gloves which are ideal as work gloves outdoors, as well as in the cold store. Thermo Work Gloves are lined and insulated and are an optimal glove for extremely cold temperatures due to their integrated heating elements. The palm of the glove is sewn with a hard-wearing, optically very appealing leather, which allows a very good grip. | |
Now the Thermo Gloves are available at an price of only 149,99 ¤,
the Thermo Gloves Touch Screen of only 159,99 ¤,
the Thermo Ski Gloves of only 189,99 ¤
and the Thermo Work Gloves of only 179,99 ¤.Our Mittens are designed that the finger and thumb area can be folded back and held open with a set of strong magnets. Tasks, such as writing, using the mobile phone, picture taking or even using a rifle, can now be accomplished without having to take off the mittens.

The Mittens were designed for the use with Thermo Gloves, but of course they also can be used separately. Now the Mittens are available for 49,99-- ¤
Help for the right size!
Order Thermo Gloves!
Health

Thermo Gloves from a Doctor´s viewpoint
Many people suffer from cold fingers and hands when the temperatures outside are low. In most cases, this is caused by a constriction of the vessels and resulting insufficient blood circulation in the hands. This is a physiological process that helps to keep the temperature of the body centre consistent, it is called "Centralisation of Circulation". On the other hand, this reaction often feels unpleasant and may even take on the significance of an illness.
From this point of view, a classic disease is Morbus Raynaud. Symptoms are paroxsymally occurring vessel contractions, resulting insufficient blood circulation of the peripheral limbs, and the corresponding places on the skin turn white and are painful. Only in rare cases, necroses will form, and fingers and/or toes may die.
To prevent such symptoms and cold hands during wintertime, general measures are recommended first. This includes protection against wetness and cold, for example by gloves, but also warmth from the outside in form of heat-producing gloves, like for example the Thermo Gloves. Of course, the temperatures may not be excessively high, as they would otherwise cause tissue damage. The Thermo Gloves exclude this risk.
As an accompanying measure, smokers are recommended to reduce their cigarette consumption resp. — even better — to stop smoking altogether. Physical activity and relaxation techniques can support circulation. Medicine or even surgery (Sympathectomy) is necessary only in serious cases..
In my opinion, the prevention of peripheral cooling is a priority, because all further reactions are a consequence of the cold. This can be done with adequate clothing and improved by local heat application, which thus is one of the most important preventions against cold hands. The Thermo Gloves with the three temperature levels offer an individual opportunity to keep hands from being cold, and therefore lead to a significantly better feeling than without Thermo Gloves. Using Thermo Gloves against cold hands can therefore be recommended from a medical viewpoint.
Dr. Werner Kommer
Specialist for Internal Medicine and Cardiology
Dr. Werner Kommer

Specialist for Internal Medicine
Wolkersdorf, Austria
FAQ
| | |
| --- | --- |
| If the batteries are broken or empty, can these be replaced? | Yes, the batteries can be replaced, but as they are special Lithium Polymer batteries they run up to 500 charging processes. You can order spare accumulators on this site. |
| | |
| How long is the introductory price valid? | Currently in any case until the end of january 2012. We cannot promise this for later on as we have to negotiate with our suppliers first. |
| | |
| How fast can I receive the Thermo Gloves? | As soon as we received your payment or you pay with credit card, the goods will leave our shop via mail on the same day. Shipping time is between 2 and 4 days. |
| | |
| What about the warranty? | All our products are guaranteed for 2 years. |
| | |
| Are the Thermo Gloves delivered with the right adapter? | We supply the right adapter for every European country. |
| | |
| I do not know the right hand size. | Please click here for detailed information about the right hand size. |
Technical Data/Material/Sizes
2 Lithium Polymer Batteries:
3800 mAh,3,7 V, 14,06 Wh each.
No memory effect.
Charge time:
approximately 9 hours

Charge hold: 2-5 hours



L - Green LED
M - Yellow LED
H - Red LED

34 °C with approximate heating time of 4 – 5 hours
39 °C with approximate heating time of 3 – 4 hours
44 °C with approximate heating time of up to 2 hours

BATTERY PERFORMANCE COMPARISONS
battery type

Li-Polymer

Li-Ion

Ni-Mh

Ni-Cd

safety

excellent

fair

good

good

nominal voltage (V)

3,7

3,7

1,2

1,2

gravimetric energy density
(WH/kg)

highest
(160-210)

high
(120-160)

mid
(40)

mid
(50-80)

memory effect

no

no

yes

yes

life cycle

< 500

< 500

300-500

300-500

environmental friendliness

yes

no

no

no
ADVANTAGES OF LI POLYMER BATTERIES

enhanced safety
leakage-proof ( no free electrolyte )
ultra-thin
ultra-light
high energy density
long life cycle
environment-friendly ( pollution-free )
The right glove size

If you are unsure about what right glove size you need, then please measure your hand circumference as shown in the picture:
| | | | |
| --- | --- | --- | --- |
| Hand circumference in cm: | 10 - 15 cm | 15 - 22 cm | 23 - 28 cm |
| Glove size: | 1 - 5 | 5,5 - 8 | 8,5 - 11 |
| Thermo Gloves / Mittens size: | XS - S | S - M | L - XXL |
You will be ask for the right size during the order.

TEXTILE SPECIFICATION FOR THERMO GLOVES:
Shell: 100% Polyester
Filling: 100% Polyester
Heating element: Thermo Wire
Now the Thermo Gloves are available at an introductory price of only 149.99 ¤.
Customer Review
We check reviews on our products before they are published. Each review is individually checked to see if it was made by a consumer who actually purchased the goods or services from us. An activation takes place only after 24 h at the earliest.
checked reviews:
Helga Ronijak (from 15.3.2022), translated
THANK YOU for existing!!!
Shortly after I retired, my husband died and I moved into a flat with many ladies and gentlemen of the same age who always took me for walks to distract me. Somehow we had fixed days when we went for a walk - no matter what the weather, it's all about the fresh air. Unfortunately, a few years ago I was diagnosed with Raynaud's disease and since then it has been almost impossible for me to go for a walk with my neighbours in winter. My granddaughter persuaded me to try your Thermo Gloves. Of course I was sceptical, because what could help my often white-blue fingers? But they really were the Thermo Gloves from you. Sometimes I even wear them in the house, but the best thing is that I can go for a walk again without any problems. I either put the gloves on and wear mittens over them or just put my hands in my jacket pockets. Either way, the warmth of these gloves is just perfectly stored!
Otto T. (from 1.3.2022), translated
I live with my family on our farm right next to a large ski area, where I also grew up and have been skiing since I was barely 4! I just love this sport. However, as I got older, I had the problem that my fingers froze more and more. I just couldn't hold a ski pole without my fingers freezing off - it felt like they were dying - REALLY! Now I've bought your heated gloves because I really would give anything to be back on my skis. And now I come to the end: I want to let you know that you have made it possible for me to pursue my favourite sport again. I put on the Thermo Gloves, my ski mittens over them and really feel a pleasant warmth - but I still don't sweat! SIMPLY PERFECT!
Katharina T. (from 22.1.2022), translated
My dog thanks me for buying your gloves - since then he is allowed to walk and play in the snow longer and longer because I don't freeze so quickly and can hold the leash longer.
S. Kriegl (from 8.1.2022), translated
I have always taken photographs in my free time and I could decide for myself when I felt like it. A few years ago my hobby became my profession and of course I had to/was allowed to respond to the customers' wishes - family photos in the snow-covered forest; children making snow angels; sledging with dogs etc. - working with the camera of course also requires a bit of sure instinct and that's exactly where the problem was in winter - often I had no feeling at all when pressing the shutter release because my fingers were really stiff from the cold. Then I made a few phone calls and browsed the Internet and came across the website www.thermogloves.eu. I found out that these are the best products in the world. I found out that these gloves not only warm the back of the hand, but you can really feel the warmth on every finger and all the way to the fingertips, because there's a heated wire all the way around. Now nothing stands in the way of my photos in winter.
Steffi Michalitsch (from 10.12.2021), translated
Hello dear team!
We ordered your heated gloves from you at the beginning of November because my husband and I are members of a curling club. Almost the whole body is in motion, but the hands always get cold so quickly and then you lose a bit of feeling when you want to hold the stick. We now only shoot when we wear your gloves and have already recommended them to the rest of the club! I'm sure a few of our friends will be in touch soon.
E. Horvath (from 13.2.2021), translated
I did an internship last year during my winter break and was allowed to interview people. When holding the microphone I was always sooooo cold that I put on your gloves and then it worked. Maybe in many years you will see me on TV interviewing skiers - then of course only with your Thermo Gloves!
P. Glavanovits (from 19.12.2020), translated
I am in a cycling club where we train and even go on rides in the cold season. At least 80% of our members now own their Thermo Gloves, so I thought I'd just say a quick THANK YOU to you and your team on behalf of everyone! Every single finger is warmed by the gloves, which is extremely important when cycling because all fingers are exposed to the cold (at least twice as bad in the wind). And when it's extremely cold, I just put another pair of gloves on - that's no problem at all, because your heated gloves adapt really well to your hand and fingers - so there's no "mess" when you put a second pair on!
A Lilak (from 7.12.2020), translated
My favourite hobby "hiking" accompanies me of course also in winter - since recently your Thermo Gloves accompany me always!
Really a cool invention!
Anita Chevalier (dated March 8th, 2020), translated
Hello
I've been enjoying your thermostat glove product for years. As a Canadian Ski Patrol and Ski Instructor they are absolutely necessary. I have Raynauds syndrome which is progressively getting worse. My fingers would become frozen and useless without battery warmth.
I've sent many colleagues to your website so they can also keep fingers warm for the emergency care we give on hill.
Below I have one working glove during our snow angel day held on Canadian Ski Patrol day trying to break a Guinness World Record.
Cheers from ~ Anita ~ tech device #2
Ellen Schwartz (dated April 1st, 2020), translated
After a full ski season using your Thermogloves I cannot praise them too highly. I am only sorry that I did not invest in them sooner. In the past my fingers would get painfully cold but with your liners and using good mittens over them, I did not have a single day when I needed to get off the slopes due to cold hands. Usually just the lowest setting was enough to keep my fingers comfortable and only occasionally in the coldest weather did I need a higher setting. They were also great for snow shoveling and using the snow blower. Where in the past I'd need to quit after just 15-20 minutes, with the Thermogloves I could comfortably work for as long as I needed to get the job done. I will now not go out for long periods in winter without them.
I very highly recommend them to anyone for whom cold hands is a problem.