never cold feet again
up to 5 hours of pleasant warmth
flexible carrying possibility of the battery pouch at the lower leg, thigh or with extension cable at the waistband or in the trouser pocket
no freezing in extreme cold anymore
incl. high-performance lithium polymer battery (3,7 V; 3800 mAh)
3 temperature levels
incl. charger
stretchy fabric
soft, skin-friendly material
suitable for washing machines
Order Thermo Socks!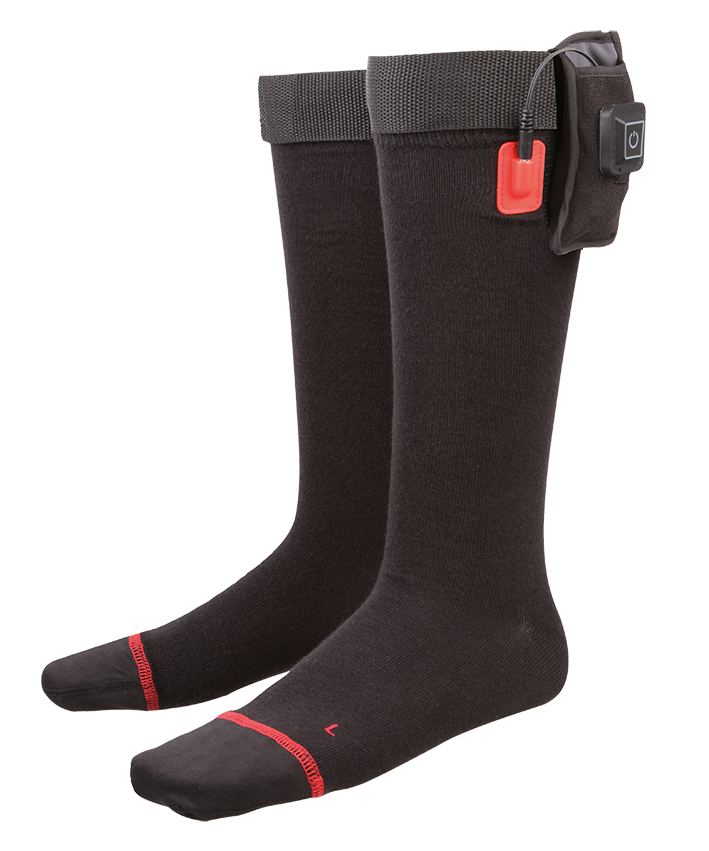 NOW

Thermo Socks Set only ¤ 99,99 incl. VAT. plus shipping
Are your feet and toes getting cold while being outside in the winter? There finally is a solution to this problem!
THERMO SOCKS
, our new heated socks with integrated heating elements completely surrounding the toes.The velcro adjustment strap, holding the battery pouch with integrated temperature control button, can be attached to either the calves or thighs of the legs.Extensive tests during the past years have shown, that the heating area covering the toes has the highest effect on keeping feet warm. Extending the heating area to the whole bottom of the feet would actually cause overheating and presperation.
Thermo Socks are made of a thin and flexible fabric and can therefore be worn in all shoes, whether ski boots, boots for hiking or riding, low shoes, ice skating boots, cycling boots, snowboard boots, etc.

THERMO SOCKS have three temperature settings which can easily be adjusted by simply pressing the control button. Low at 34°C, Medium at 39°C and High at 44°C.
| | |
| --- | --- |
| The heating time, depending on the temperature setting is between 2 - 5 hours. For even longer heating times we recommend to purchase additional batteries. The batteries are Li-Ion batteries, which can be re-charged up to 500 times. The weight of the battery is 59 grams only, which is not noticeable when wearing the socks. | |
NOW

Thermo Socks Set only ¤ 99,99 incl. VAT. plus shipping
and as a replacement the
Thermo Socks Only
(only one pair of socks without the charger and without the batteries)
only ¤ 49,99
incl. VAT. plus
shipping
THERMO SOCKS include 2 heated socks, 2 Li-Ion batteries, 1 charger and set of instructions.
Order Thermo Socks!