never again cold feet
fits in any shoe
extremly flat soles
no interfering cables
integrated high-performance battery
ergonomically shaped sole
built in temperature sensor for optimal foot climate
Order Thermo Soles!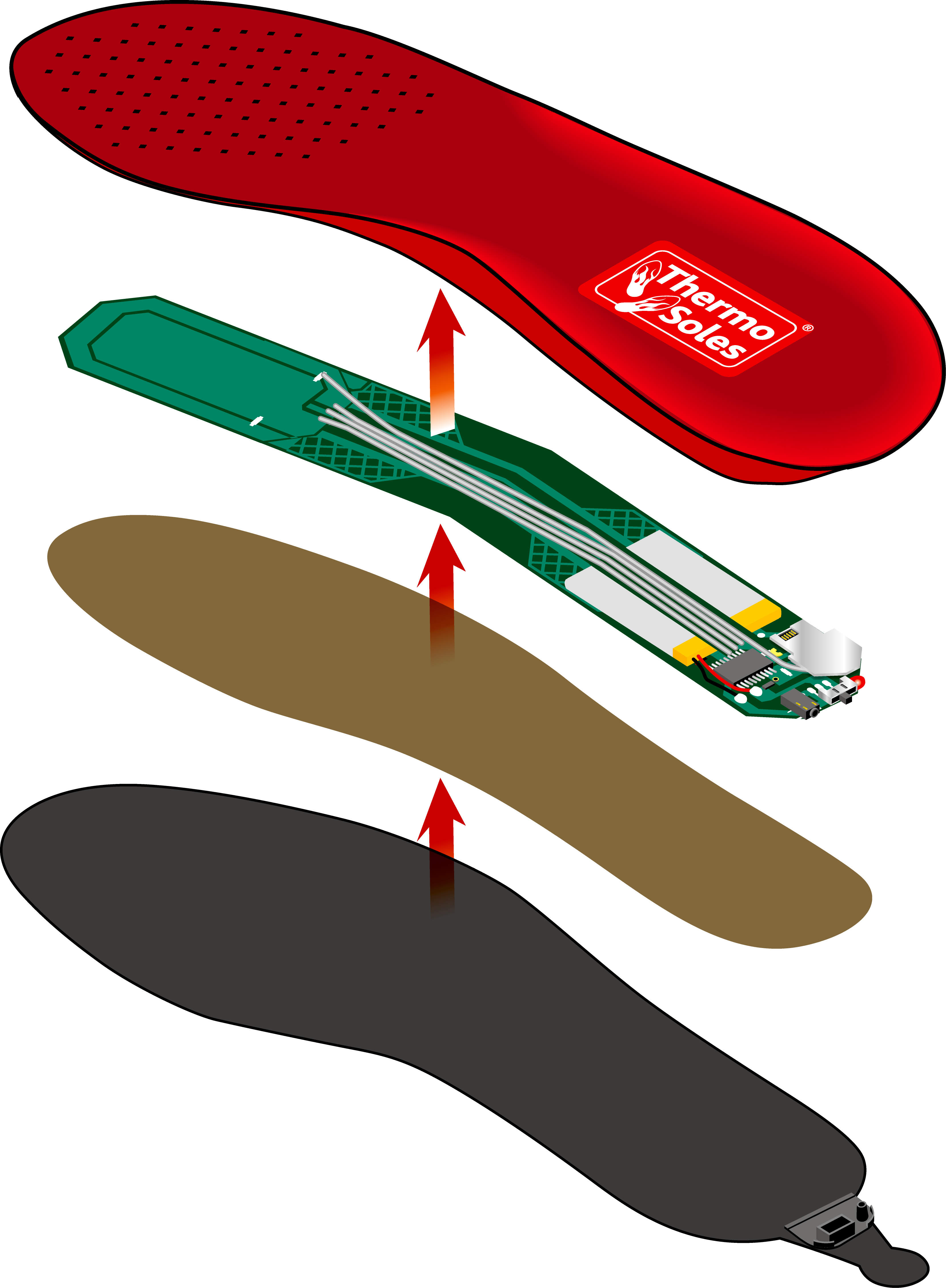 Now there are the Thermo Soles at an price of
only 109.99 ¤
This winter, do your feet a favor. Keep them warm even on the coldest winter day with
Thermo Soles
,
the world's first wire-free rechargeable heated insoles.Thermo Soles
provide radiant warmth and excellent cushion for ultimate winter-time comfort. Plug in the Thermo Soles, and they do more than simply heat up. Thermo Soles are engineered with
integrated thermostats to detect your foot's actual temperature and adjust accordingly,
giving you just the right amount of warmth, right when you need it.
And that warmth sticks with you better than a bowl of Grandma's oatmeal, as the heat-preserving synthetic material and insulating fabric lining keep that
warmth for up to 8 hours on a single charge
. Slip into winter with warm feet, while also enjoying the benefits of a shock-absorbing,
ergonomically shaped
Polyurethane bottom to keep your feet comfortable too.
Thermo Soles come with Lithium-Ion rechargeable batteries, the charging adapter and a handy storage case.
Thermo Soles
are perfect for use with:
– ski boots
– work boots
– outdoor footwear
Don't spend one more winter with cold, uncomfortable feet. Step into warmth with your perfect sole mate, Thermo Soles.
The
Thermo Soles
are only
110 grams easy
and flexible. Thermo Soles are
extremely flat
, 3 mm front and rear 12 mm thick.
Incidentally: Recently the famous Olympic medallist
Georg Hackl
(3 x Gold, 2 x Silver in the One-Man Tobogganing event) has begun using our Thermo Soles on a daily basis and he's
very impressed indeed
!
In addition to the normal Thermo Soles we also offer
Thermo Soles 3-D with remote control
– our
top model
for many years.
They've been developed especially for skiers, snowboarders, X-Country skiers, ice skaters, bikers and all other sports enthusiasts, who prefer an
anatomically shaped 3-D-insole
with added cushion and support for your feet.
These soles also possess a
remote control to turn the heat on and off
. This is especially interesting for everybody wanting to spare the battery for example during the drive in the ski lift or the break in the "ski hut" and thus have a longer individual heating period. In addition, the new
Thermo Soles 3-D with remote control
can be set to a heat of either
38 degrees C or 44 degrees C
, and are thus specifically adequate for those that have especially cold feet.
| | | |
| --- | --- | --- |
| Thermo Soles | | Thermo Soles 3D with remote contro |
| | | |
The
difference
between the standard Thermo Soles and Thermo Soles 3-D with remote control is, that Thermo Soles have a flat insole, intended for all shoes and that Thermo-Soles 3-D with remote control have an anatomically shaped 3-D insole for added cushion and support and a remote control to turn the heat on and off.
Help for the right sole size
Order Thermo Soles!
Health

Rhinitis and cold due to cold feet
A study by Ronald Eccles of the Cardiff University in Wales now scientifically proves the relation between cold feet and a cold: He divided 180 healthy students into two groups. The one half had to spend 20 minutes barefoot in a bowel with water at a temperature of 10°Celsius. The other half of students stood in an empty bucket with shoes on (control group). The health status of all participants was documented with the help of a questionnaire for the next five days. Immediately following the footbath there were no differences between the two groups. During the following five days the cold rate in both groups increased: In the cold water group 13 students caught a cold, in the control group 5 students got sick. This scientifically proved that cold feet lead to colds more frequently than warm ones do!
Source: Family Practice, 22, 2005, 608-613
We asked Dr.med. Zrim for the health aspect of the Thermo Soles and about the problem of cold feet:
"In cold surroundings the feet are the first part of the body that become cold. The body centralises the circulation, the legs do not receive as much blood circulation.
However, especially in cold weather one would have to bring more blood into the leg muscles to increase the capacity and prevent muscle damages. But actually it is so easy to keep the circulation in adequate boundaries: keep your feet warm!
You do not have to sweat to achieve the health-promoting effect: already a few additional degrees on the soles of your feet are sufficient to increase the circulation of the entire leg, because the largest contact area of the body with the cold ground (e.g. during skiing) is the sole of your foot!
A heating shoe sole balances the entire effect of a cold ground and normalises the circulation, because the standing area on cold ground is fully omitted.
The acra (toes, fingers, tips of nose and ears) are the first body parts that suffer from frostbite due to the exposure. Usually it gets the toes first, because these have the closest contact to the snow: Also in this case a sole heating helps simply and efficiently."

Dr. med Robert Zrim from Klagenfurt
Now the Thermo Soles are available at an introductory price of only 109.99 ¤.

FAQ
| | |
| --- | --- |
| If the batteries are broken or empty, can these be replaced? | No, the batteries cannot be replaced, but as they are special Lithium Polymer batteries they run up to 500 charging processes. This corresponds 5 full years of normal winter use! |
| | |
| How long is the introduction price valid? | Currently in any case until the end of january 2012. We cannot promise this for later on as we have to negotiate with our suppliers first. Please consider that the Thermo Soles currently cost 199,-- ¤ at Pro Idee (Januar 2010). |
| | |
| How fast can I receive the Thermo Soles? | As soon as we received your payment or you pay with credit card, the goods will leave our shop via mail on the same day. Shipping time is between 2 and 4 days. |
| | |
| What about the warranty? | All our products have a 2 year warranty. |
| | |
| The video Thermo Soles shows an American adapter. Are the Thermo Soles delivered with the right adapter? | The advertisement was filmed in the USA, this is why the adapter is American. We supply the right adapter for every European country. |
| | |
| I do not know the right sole size. My ski boot has a completely different number! | Please click here for detailed information about the right sole size. |
Technical Data/Material
• 2 Lithium-Polymer Batteries: 900mAh, 3,7 V, 3,7 Wh each. No memory effect.
• Initial charge time: 8 hours, 4 hours to re-charge
• Charge hold: 2-8 hours depending on the outside temperature and quality of your shoes or boots
• Heating temperature range: 31-41°C
• temperature measured directly on the heating elements!


Fabric Lining


PCB Board Thermostat

Heating Elements
Synthetic non-conductive material


Shock absorbing, ergonomically shaped Polyurethane bottom


Electronics parts and Lithium-Polymer battery


On/Off LED
charging socket


heat preserving synthetic materia
isolierendes Gewebe
Help for the right sole size!
BATTERY PERFORMANCE COMPARISONS
battery type
Li-Polymer
Li-Ionen
Ni-Mh
Ni-Cd
safety
excellent
fair
good
good
nominal voltage (V)
3,7
3,7
1,2
1,2
gravimetric energy density
(WH/kg)
highest
(160-210)
high
(120-160)
mid
(40)
low
(50-80)
memory effect
no
no
yes
yes
life cycle
< 500
< 500
300-500
300-500
environmental friendliness
yes
no
no
no
ADVANTAGES OF LI POLYMER BATTERIES
enhanced safety
leakage-proof ( no free electrolyte )
ultra-thin
ultra-light
high energy density
long life cycle
environment-friendly ( pollution-free )
TEXTILE SPECIFICATION for Thermo Soles
60 % polyurethane
23 % paper
17 % polyester

Customer Review


We check reviews on our products before they are published. Each review is individually checked to see if it was made by a consumer who actually purchased the goods or services from us. An activation takes place only after 24 h at the earliest.
checked reviews:

Marina Baumgartner (from 26.2.2022), translated
For many years, paragliding has been one of my greatest hobbies - but my toes have always been cold. So far I have tried a few heated soles, but they were always in-between sizes, so you have to decide which size to take. You can also cut the Thermo Soles to size after you have chosen them, so that your toes are really heated. There was a table where I could measure my feet and compare them. The heating is great, I can now pursue my hobby without any problems.
Martin Sommer (from 13.2.2022), translated
First of all, I would like to say that the shipping was super fast - after two days I had the soles in my hands!!! TOP!!!! As a glider pilot, I usually have cold toes when I'm in the air. My friend has heated soles, which I tried, but the whole sole didn't warm up very much. Then I was looking for soles where all the warmth is only on the toes, because my heels don't freeze. And then I came across the Thermo Soles - of course they heat much more intensively, as all the heat energy is concentrated on the toe area at the front. THANK YOU!!!
Petra Kummer (from 19.1.2022), translated
I have loved skiing since I was a child, but for a few years I have suffered from a circulatory disorder or illness and my toes always froze and I never noticed it once. Thanks to the soles, I can now ski again and do any other winter sport without fear of my toes freezing.
A. Chapovets (from 3.1.2022), translated
My buddy and I go hunting regularly and always wear a warm jacket because it gets quite cold at night, but on our feet the thickest winter shoes often don't help. Now I called the company and they explained to me that the soles warm even better in combination with our thick winter shoes, because the heat is stored really well in them. We tested it and it's really true! Now we don't freeze at all when hunting and it's fun again. Really great customer service!
Gottfried M. (from 22.12.2021), translated
I'll briefly tell you about myself: I'm a nurse in a small nursing home. Since it is small, it is very familiar and I really know each of the residents personally and well. Now I come to the problem and the solution: we have a few ladies and gentlemen here who are in wheelchairs or who are not so mobile themselves - of course we take them out for a walk in winter. Wrapped up thickly and with bonnets and gloves - but their feet always freeze because they are simply not in motion, so we decided to surprise these residents with the soles for Christmas! What can I tell you? It was a complete success and now we always come back from walks with warm toes! Really a great invention!
Tina Reinbacher (from 12.12.2021), translated
I bought the soles for my daughter. She really wanted a dog two years ago and after a few days in the first winter she was already complaining that it was just so cold when she went for a walk and her toes froze! "Good" I thought to myself - and bought her the soles. Now she really enjoys walking the dog again - no matter what the temperature.
A. Binder-Kita (from 18.11.2021), translated
My husband and I are horse riders all year round because we just love horses! As it is often quite fresh in winter, even in the hall where we always ride, we thought we would simply test such heating soles. Now we can ride much longer because the battery lasts a really long time and we have super warm toes!
Kristina Schuster (from 27.2.2021), translated
Since I retired, I have been going fishing very often, if not almost every day! I know that fishing is considered a sport, but you don't get much exercise, especially with your legs! I often enjoy the silence in my new camping chair, but I can't stand it for long because my feet are soooo cold, or actually the front of my toes. And then I just want to go home. Now I have bought the Thermo Soles heating insoles and spend even longer nights by the water!
Christa M. (from 27.12.2020), translated
My husband looks forward to Advent every year because he always sets up his "Advent Magic Hut", decorates it himself and wants to please the visitors. Unfortunately, he doesn't make me so happy with it - of course it's beautiful and dreamlike when it snows on top of that, but unfortunately he always forgets that I'm relatively frostbitten - especially on my feet, but he still wants me to be there so that we can spend a lot of time together. Now he had the super great idea to give me the soles for my birthday. What can I say - the first "season" went off without a hitch and with warm feet.
Stefan L. (from 6.11.2020), translated
Hello Thermo Soles Team
I am a big fan of your Thermo Soles and bought them 10 years ago from a friend who drove them 1 year before. Since then I use them every winter and enjoy the warm feet. Unfortunately the capacity of the battery is decreasing and more than 45-60 minutes is not possible anymore, but after 11 years it is completely ok.
Greetings from Lake Constance,
Stefan